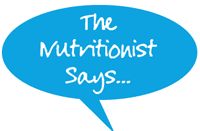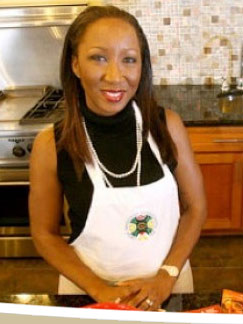 Roniece is a founding partner and Executive Director of Hebni Nutrition Consultants Inc. the developer of the original Soul Food Pyramid- a culturally sensitive food guide.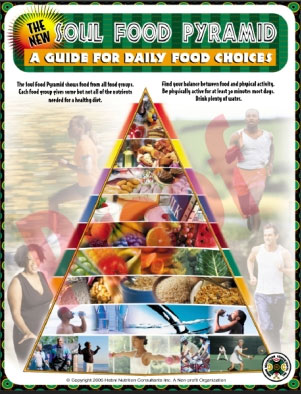 Sunday Kind of Soul
Food memories can be the sweetest of all, taking you back to childhood with each fabulous forkful.
All it takes is a taste of Mama's fried chicken or sweet potato pie and soon you'll be transported back in time to Sunday dinners around the kitchen table. Or take a bite of Hoppin' John, a spicy dish of rice and black-eyed peas, and you'll remember New Years' celebrations from years ago.
But for many people, the food that brings back memories of home -- whether it's Hoppin' John, corn pudding, chitlins, red beans and ham hocks, gumbo or banana pudding -- is delicious, delightful and really fattening.
Unfortunately for African-Americans, that traditional Southern food -- which migrated north in the 1940s, '50s and '60s with millions of African-American is high in fat and cholesterol.
And the traditional African-American diet is one of the reasons that the nation's black population has high rates of heart disease, high blood pressure, diabetes and arthritis.
For dietitians, both black and white, it's been hard to help African-Americans who grew up on this diet -- without asking them to give up the foods that are part of their heritage.
That's why three Florida dietitians have banded together, pooled their money and created a free flier called "The soul food pyramid."
Modeled on the USDA Food Guide Pyramid, which debuted in 1992, the soul food pyramid uses the same dietary guidelines but is tailored to fit the African-American diet. For instance, the pyramid shows where African-American favorites -- such as chitlins, sausage, bacon and pork rinds -- fall into the pyramid.
The pyramid was the brainchild of Fabiola Gaines, Roniece Weaver and Ellareetha Carson, all registered dietitians who have formed Hebni (pronounced "ebony") Nutrition Consultants, a nonprofit organization.
"Fabiola was a strong advocate for doing this pyramid," Weaver said. "She felt, as we did, that the generic USDA pyramid did its job but did not address ethnic diets."
So the three developed the soul food pyramid, pooled their money and had 20,000 copies printed. Since the fliers were printed last fall, they've been distributing the pyramid material when they do lectures and on weekends, when the three dietitians visit church functions, fairs and street festivals in the African-American community.
"We're just three sisters trying to do our part," said Gaines, a registered dietitian who works in Volusia County's public health unit. "Diet plays such a huge role in disease and disease prevention that we felt we needed to do something to help the community. For example, 3 million African-Americans have diabetes and 1.5 million don't know they're diabetic."
For Gaines and her two partners, this public-education project is a labor of love. Gaines, along with Weaver, a consultant dietitian with a Sanford food company, and Carson, a senior public health nutritionist with the Department of Children and Families in Orlando, spend nights and weekends spreading the gospel of the low-fat, low-sodium diet.
They believe that using the pyramid regularly will help when trying to improve your eating habits.
Roniece and her partners have a pretty good story to tell at the Soul Food Pyramid. Check out their Soul Food Cookbook and come home to good taste. You'll be back again.
Try the Soulful Chili. It's sooooo good.
Editor's Note: Roniece's story was excerpted with permission from a feature written by Linda Shrieves, a reporter at the Orlando Sentinel.