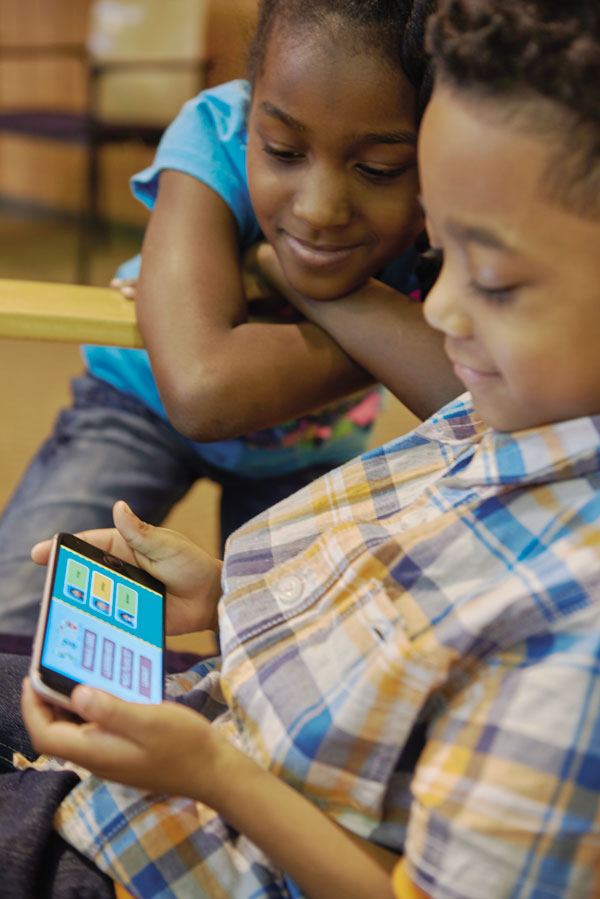 APP-titude
5-2-1-0 Kids App reinforces healthy choices
If you give a kid a gadget, they're going to want to use it.
But give them a vegetable and many are ready for kitchen warfare.
It doesn't have to be that way, according to the developers of the 5-2-1-0 Kids App introduced by Henry Ford Health System.
Linking kids' love of electronics to apps that encourage activity and education provides a more organic way to stem inevitable healthy household challenges, according Henry Ford pediatricians, nutritionists and Live Well experts who worked with Southfield-based Pixo Group to develop the app.
Fast, fun and user-friendly, the app's four mini-games were designed to appeal to kids ages 4 - 9.
RULES OF ENGAGEMENT
The rules of engagement have changed.
Reaching kids where they are at today is critical, according to Sharon Milberger, ScD, director of Henry Ford LiveWell.
"And where they are is in front of screens and mobile devices," she says. "By applying gaming principles, the 5-2-1-0 Kids App reinforces healthy behavior with game points to help kids learn how to make long-term, healthy decisions."
PRESCRIPTION TO PLAY
The app provides welcome support and encouragement to the 9 out of 10 U.S. parents harboring household "veggie haters" who stubbornly refuse to eat their recommended vegetable serving requirements, as well as Michigan farmers hungry to change that trend.
Developers also hope the app will serve as a prescription to play, motivating the 75 percent of youth who don't engage in recommended daily physical activity to get moving.
MESSAGES THAT STICK
"It works," says Jenifer Young, a Detroit resident and mother of three, who learned about the 5-2-1-0 Kids App during a routine visit with Henry Ford pediatrician Stacy Leatherwood, M.D.
"I was amazed how quickly the games influenced my kids' behavior," she states. "They actually are asking for fresh fruits and vegetables now and eat far less sugary snacks than they used to."
Family activity levels have improved as well, according to Young, who reports that her kids love the impromptu dance challenges of the 5-2-1-0 Kids App.
Young says that unlike some kids' apps, the 5-2-1-0 Kids App seems to show real staying power. It remains as appealing to her kids today as it was six months ago.
START THE CONVERSATION
The power of tech tools, like the 5-2-1-0 Kids App, cannot be underestimated.
Experts applaud mechanisms that help parents engage their children in conversations about the importance of making good choices regarding nutrition and activity levels, but warn that they must begin when children are young.
Age-appropriate introductions are important, says Milberger.
"Children establish taste preferences and behavioral patterns when they are really young," states Milberger, who encourage parents to begin educating their kids about food choices and activity levels early.
Beginning the conversation when kids are 3 or 4 saves parents from a lot of challenges down the road, according to Milberger.
"Daily activity and nutritional habits need to be reinforced daily, according to Leatherwood, who reports that nearly 40 percent of her pediatric patients are considered overweight or obese.
A PROMISING FUTURE
That's why HFHS pediatricians are actively promoting the 5-2-1-0 Kids App, which is helping parents like Jenifer Young establish healthy habits with her kids
Play on.