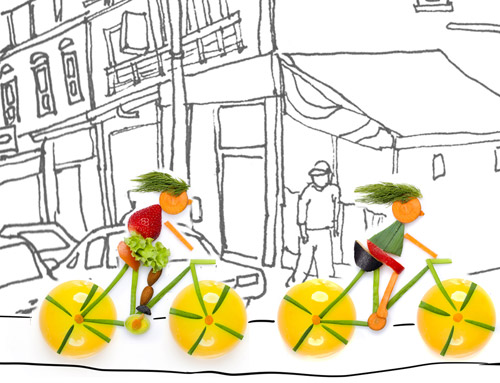 Overcoming such challenges is the focus of the Healthy Food Access Campaign, which represents a statewide coalition of retailers, health advocates, policymakers and finance leaders lobbying for $10 million in state funding to support healthy food access initiatives statewide.
The coalition hopes to offer incentives to grocery and convenience stores in Michigan to expand their healthy food offerings where improved access is most needed as well as reduce costs and increase consumer demand.
"In addition to improving consumer access, we've got to find and fix other underlying market-driven challenges," Campaign Manager Ted Odell, says, pointing out two of the biggest issues are (retail) distribution systems and equipment needs.
New distribution systems are capable of supporting larger coverage areas and smaller and more frequent stops. Such systems would provide the community fresh food shipments when and where they are needed most.
But getting there is only half the battle.
Odell hopes campaign funding will also help small independent grocers and convenience store operators address other changes ranging from fresh food space and storage requirements to improving consumer demand.
These independent grocers are very interested in selling fresh foods. That's not the issue. The problem is the cost of such sales, which are much higher than the large chains, according to Odell.
Can inner city shoppers really be expected to pay $5 for a banana?
Providing relief from elevated product delivery, increased security and storage costs would help to address some of the market barriers that impede fresh food expansion efforts, according to retail advocates like Martin Manna, the executive director of the Chaldean American Chamber of Commerce, which represents many inner city retailers.
No one wants to see browning bananas in stores or back dumpsters but without additional incentives increasing fresh food inventory in smaller independent stores remains problematic.
The National Association of Convenience Stores (NACS) and the United Fresh Produce Association (United Fresh) recently teamed-up to help identify and support innovative strategies to grow produce sales in convenience stores.
"We have seen a dramatic increase for customer demand for fresh produce in convenience stores, and with new tools and evidence, we hope to communicate the huge opportunities available to everyone in the distribution chain, from farm to store," says NACS Chairman of the Board Steve Loehr.
More than 62 percent of NACS members say that produce is important to their business plans in 2015, according to a company spokesperson, who reports that the partners are working on identifying solutions in the distribution and merchandising of fresh produce.
"There are significant challenges and costs involved in urban markets," says Manna, who is happy to see the possibility of increased state funding and infrastructure support for his members who must carefully manage the costs associated with more frequent delivery of fresh produce to stores, merchandising techniques and handling procedures to minimize spoilage.
The campaign may well be the carrot needed to prove detractors wrong.