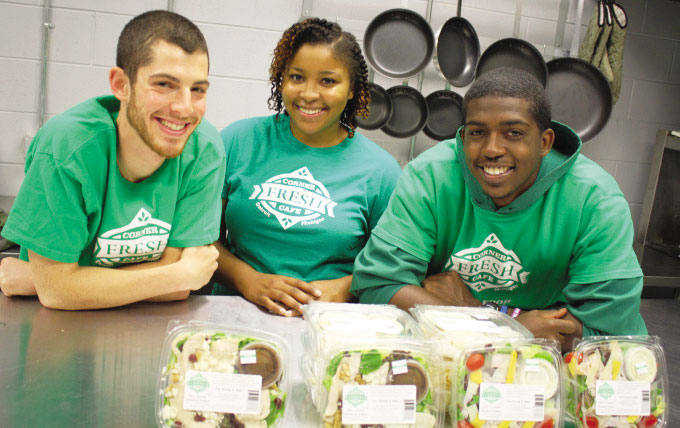 Why?
"Recognition," says Marci Scott, PhD., RD, a registered dietician nutritionist and vice president of the Michigan Fitness Foundation (MFF), which supports the delivery of nutrition and health programs in 83 Michigan counties statewide
"We tend to eat the foods we recognize and are most comfortable with," notes Scott. "Anyone who has never been exposed to brussel sprouts is as unlikely to buy them as to prepare them regardless of the price or nutritional qualities."
That's the driving force behind MFF-supported campaigns, which incorporate budgeting, food selection, recipes and cooking demonstrations into all its educational efforts, including its retail partnerships.
Without necessary customer recognition and acceptance, even the freshest and most affordable produce often will remain untouched on grocery shelves, according to Scott.
More fresh foods are needed, particularly in inner city neighborhoods, according to Eric Davis, director of the Food Initiative at United Way.
"We got to give retailers better incentives to stock fresh foods," says Davis "This is a supply and demand thing. When fresh food demand increases, grocers will change the way they do business and stock their shelves."
Many Detroiters agree.
"We need more grocery stores, higher (consumer) demand and lots more ways to think about accessing fresh foods in Detroit," says Tanisha, a resident in Northwest Detroit.
Until such critical mass is reached city residents, particularly those without transportation, will suffer.
"We don't have a choice, we have to eat what they (retailers) have," says Casandra, a homebound senior residing on Plymouth Road on Detroit's west side.
COMING SOON
The MFF is currently working with non-profits, independent grocers, grocery chains, food pantries and other groups to create turnkey displays that incorporate economical grab-and-go ingredients and preparation tips and tools, as well as culturally-relevant recipes.
In addition, advocates with the campaign are currently in initial conversations with lawmakers in both chambers and of both parties. That funding would help smaller independent retailers provide affordable fresh food access.
Bottom line?
"We know our bodies, our families and our communities are healthier when healthy food is available, offered and eaten," says Ted Odell, former state representative and Michigan Healthy Access campaign manager.
It's good food for thought and a better reason to take action.