Smucker's Fruit-Fulls are Perfect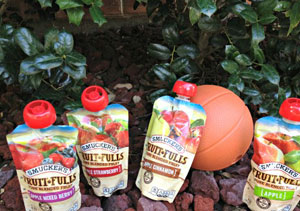 For my daughter's scheduled school snack-time, the snack must be healthy and can't make a mess. That means fresh fruit is out. But I can still get that fruit in her body thanks to the ease of convenient pouches like you'll find with Smucker's Fruit-Fulls.
It's such a practical snack for school lunches, school snack, and energy before/during/after after-school sports and activities. Super easy for kids to carry in their backpack without fear of leaking – LOVE THAT!
But what I love most of all:
No Preservatives
No Artificial Sweeteners, Flavorings, Additives or Coloring
90 calories or less per pouch
As a mom, I can feel extra good because 1 pouch is 1 full serving of fruit (based on USDA MyPlate). It's even a great way for me to sneak in an extra serving of fruit! Moms need fruit too!
Editor's Note: Author Debra Muccio is a wife and mother living in the Dallas/Ft Worth area, who traded in high-powered suits and high-heeled shoes for a new role as mommy – crayon enthusiast, storyteller, and kisser of boo-boo's. Today, she educates others about what she had learned of budgeting and cutting grocery costs significantly in her A Frugal Friend blog.