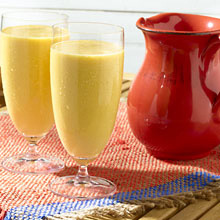 Mango Banana Shake
Prep Time: 5 min.
Servings: 4
Ingredients:
1 pkg. (14 oz.) frozen Mango Fruit Pulp, broken into medium pieces
1 cup fat-free milk
1 cup non-fat, plain yogurt
½ medium, ripe banana
1/3 cup Agave
1 teaspoon coconut extract
Directions:
1 In bowl of blender, add frozen fruit pulp pieces, milk, yogurt, banana, agave and coconut extract.
2 Blend until mixture is smooth and frothy, about 2 minutes. Serve immediately.
Nutrition Information:
Serving Size: About 1 cup
Calories: 190
Fat: 0 g
Saturated Fat: 0 g,
Trans Fat: 0 g
Cholesterol: 5mg
Carbohydrate: 35g
Sugar: 24g
Protein: 8g
Fiber: 0 g
Sodium: 90mg
Editor's Note: This recipe was originally posted by Goya Foods and is reposted with the permission of the U.S. Dept. of Agriculture. For additional healthy recipes and cooking tips visit: choosemyplate.gov