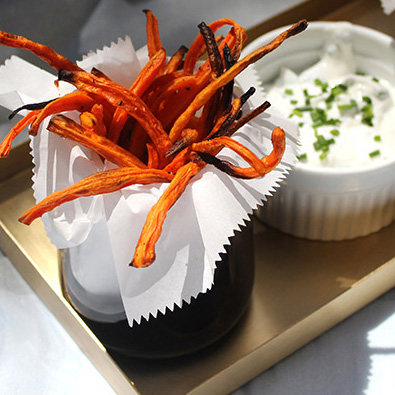 Carrot Fries
Prep Time:
Servings: 4
Ingredients:
1 pound of carrots
Cooking spray
Salt and pepper to taste
Directions:
Preheat oven to 400ºF.
Peel the carrots and cut them into strips about in ¼-inch thick and a few inches long.
Coat a baking pan with cooking spray and spread the carrots onto it. Sprinkle with salt and pepper.
Bake 15 minutes. Flip them over and coat them with a bit more cooking spray, salt and pepper; bake another 15 minutes until lightly browned.
Nutrition Information:
Serving size: 1/4 recipe
Calories: 45;
Total Fat: 0g;
Saturated Fat: 0g;
Cholesterol 0mg;
Sodium: 370mg;
Total Carbohydrate: 11g;
Dietary Fiber: 3g;
Sugars: 5g;
Protein: 1g.

Editor's Note: This is reposted with the permission of the U.S. Dept. of Agriculture. For additional healthy recipes and cooking tips visit: choosemyplate.gov