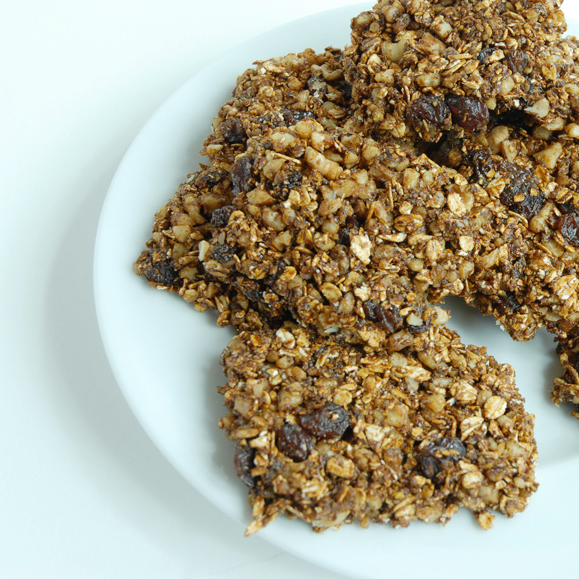 Traditional Granola Bars
Prep Time:
Servings: 10 bars
Ingredients:
2 ½ cups of oats
½ cup shredded coconut flakes, unsweetened
¼ c brown sugar
1 tsp ground cinnamon
¼ cup nuts in pieces (almonds, walnuts or pistachios)
¼ cup dried fruit (cranberries or raisins)
¼ cup sunflower seeds
¼ cup semi sweet chocolate chips of any flavor
¼ cup oil (vegetable)
¼ cup maple syrup or honey
½ tsp salt
1 tsp. vanilla extract
Directions:
Preheat oven to 350 degrees. Butter an 8×8 inch baking dish. If you have parchment paper, cut to fit the pan with overhangs to make it easier to lift and spread butter evenly. Combine oats, coconut flakes, brown sugar, cinnamon, nuts, dried fruit, sunflower seeds, and chocolate chips in a large bowl. In another bowl whisk the oil, honey or maple syrup, salt, and vanilla extract. Add the oil mixture into the oats bowl and mix well. Place in the baking dish, and press the mixture into the pan with a hard spatula and bake for 30 minutes or until golden brown. Let cool completely for a few hours and then cut into bars.
Nutritional Information:
290 calories,
15 g total fat,
4.5 g saturated fat,
0 g trans fat,
0 mg dietary cholesterol,
36 g carbohydrates,
4 g fiber,
19 g sugar,
5 g protein,
120mg sodium
Editor's note: This recipe is provided courtesy of Malena Nutricion.