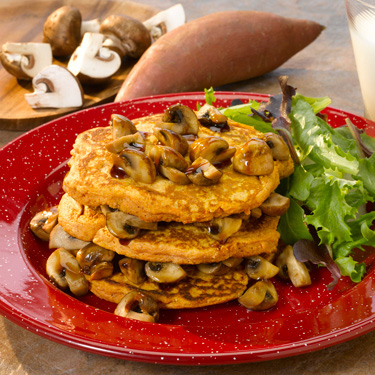 Sweet Potato Pancakes with Balsamic Maple Mushrooms
Preparation Time: 45 minutes
Makes: 4 Servings
Ingredients:
For Sweet Potato Pancakes
3 medium sweet potatoes or yams (orange flesh)
1 cup non-fat milk
1 egg, beaten
2 tablespoons vegetable oil
1 cup whole-wheat flour
2 teaspoons baking powder
1/4 teaspoon salt
Cooking spray, as needed
For Balsamic Maple Mushrooms
1 pound cremini and/or white button mushrooms, quartered
1 tablespoon vegetable oil
1/3 cup maple syrup
1 tablespoon balsamic vinegar
Directions:
1. Microwave sweet potatoes until soft; let cool. Peel and mash potatoes, using an electric mixer.
2. Add milk, egg, and vegetable oil to potatoes; mix. Sift together dry ingredients and add to potato mixture. Mix on low until just blended.
3. Heat non-stick skillet or griddle over medium heat; coat skillet with cooking spray.
4. Use 1/4 cup of batter per pancake, ladling into hot skillet.Wait until pancake bubbles and looks slightly dry on top before flipping over.
5. While pancakes are cooking, heat 1 tbsp vegetable oil in another skillet (do not use non-stick) over medium flame.
6. Add quartered mushrooms and toss coat with oil. Let simmer, stirring occasionally, until juices run.
7. Add maple syrup and balsamic vinegar to pan. Let simmer until sauce reduces and thickens.
8. To serve, stack 2-3 pancakes, alternating with balsamic maple mushrooms.
Nutritional Information:
Calories:
Carbohydrates:
Total Fat:
Cholesterol:
Saturated Fat:
Dietary Fiber:
% of Calories from Fat:
%Sodium:
Protein:
Editor's Note: This recipe is reposted with permission by the U.S. Department of Agriculture. For additional healthy recipes and cooking tips visit: choosemyplate.gov