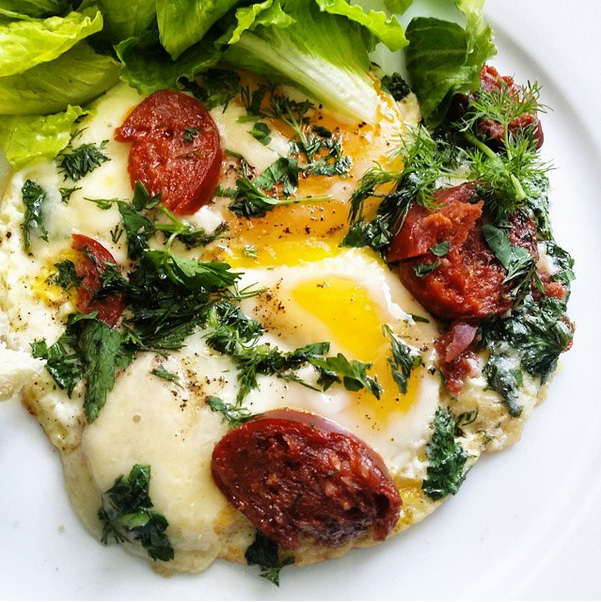 Breakfast Eggs with Sejouk & Fresh Herbs
Prep Time: 20 Min
Servings: 1
Ingredients:
1-2 tablespoons butter
2 eggs
A few cut pieces of Sejouk, hot or mild (Turkish style sausage)
Sea salt
Freshly ground black pepper
Freshly chopped herbs like dill and parsley
A few slices of sharp cheddar cheese, or any that you prefer
Instructions:
In a very small saute pan, melt the butter. Crack the eggs into the pan immediately and sprinkle salt and pepper on top. Cut the sejouk into small pieces and place on top. Let this cook on low heat for about 3-4 minutes, uncovered.
Add the cheese and fresh herbs then cover the dish for another 2-3 minutes, or until the egg yolks are firm.
Slide the eggs out of the pan and onto a serving dish or plate. Serve with fresh bread and creams, jams and a side of tea.
Recommendations:
Some people like to cook the sejouk first and break the eggs on top, which is another good way to make this dish. From there, you can top with salt, pepper, herbs and cheese and finish as directed. In this way, you may not need to use butter, as the sejouk has some that will release and help it cook without burning.
Nutritional Information:
Calories:
Carbohydrates:
Total Fat:
Cholesterol:
Saturated Fat:
Dietary Fiber:

% of Calories from Fat:
% Sodium:
Protein:
Editor's Note: This recipe was developed by Yvonne Maffei, Publisher of MyHalalKitchen.com, a halal cooking site that features a variety of global recipes, cooking tips and lifestyle information.