YOU NEED TO STRENTHTEN YOUR WILLPOWER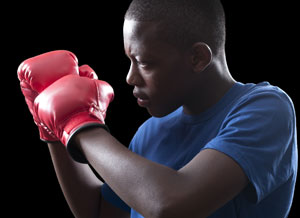 Anticipate and plan for times of low self-control avoiding difficult tasks like homework when you are most tired.
Exercise your willpower. Think of it like an exercise program. You don't start out running a 5K, you have to work up to it building strength along the way. Same thing with willpower. You have to make a lot of successful small decisions to delay gratification before you can make the big ones.
So rather than try to start exercising your willpower all at once by saying no to noshing on that bag of cookies, you might limit yourself to just six today, then four tomorrow, then two the day after and soon you will be ready to have none at all.
For many youth, resisting unhealthy foods is their most difficult challenge. Here are some tips to try:
Remove temptation from sight. Change your immediate environment by ridding your home and kitchen of tempting foods. Avoid TV food advertisements by turning off the TV. The key is to avoid looking at tempting foods you are trying to avoid.
Establish daily rituals that force you to practice the delay of gratification on a daily basis. Examples include preparing a meal without snacking, putting away meal leftovers without eating them, and not eating dessert. The goal is to practice the delay of gratification until it becomes habitual.
If you are in a situation where you cannot remove tempting foods, use your imagination to strip the foods of their appeal. At a party where tempting foods are being served, imagine that the food is poisonous or dirty so that it is completely unappealing. Then distract yourself by engaging in a conversation with someone, so you will forget about the food.
Divert yourself from thinking about food by engaging in a pleasant task that occupies your hands. Examples include knitting, sewing, carpentry, or having a good book handy for reading daily.
Make delaying gratification of food worthwhile. Devise a non-food reward that you will give yourself after six days of successful practice of these rituals, then six weeks, then six months, and so on.
Source: Shape Up America! Contributed by CEO Barbara J. Moore, PhD