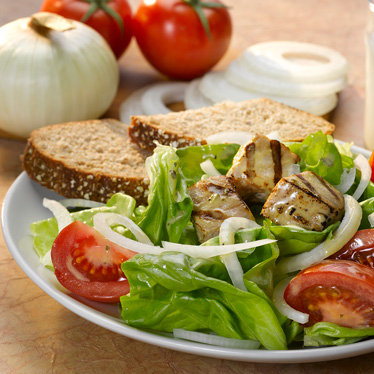 Vidalia® Onion And Tomato Salad With Grilled Tuna Recipe
Preparation Time: 30 minutes
Serves: 4
Fruits & Veggies per Serving: 1.75 Cup
Dressing Ingredients:
1½ tbsp olive oil
¼ cup lemon juice, fresh or bottled
2 tsp white wine vinegar
1 tsp Dijon mustard
¼ tsp salt
⅛ tsp black pepper
¼ tsp thyme
¼ tsp marjoram
Salad Ingredients:
½ lb fresh/frozen ahi (yellowfin) tuna steak
½ tsp olive oil
½ Vidalia® onion, thinly sliced
2 greenhouse-grown, on-the-vine tomatoes, cut into wedges
1 large head lettuce (Boston, Bibb or romaine), washed, dried and torn into bite-size pieces
Directions:
Heat grill. Whisk together dressing ingredients in a small bowl. Cut tuna into 1" chunks and place on 2-3 skewers; brush lightly with olive oil. Season lightly with salt and pepper. Grill skewered tuna until desired doneness; remove from grill. In a large bowl, toss dressing with all vegetable ingredients. To serve, divide salad on four individual plates; top with tuna.
Nutrition Information per Serving:
Calories: 160
Total Fat: 6g
Saturated Fat: 1g
% of Calories from Fat: 34%
% Calories from Sat Fat: 5%
Protein: 16g
Carbohydrates: 11g
Cholesterol: 20mg
Dietary Fiber: 3g
Sodium: 260mg
Editor's Note: Each serving provides: An excellent source of protein, vitamin A, vitamin C, riboflavin, vitamin B6, potassium and phosphorus, and a good source of thiamin, folate, vitamin B12, and magnesium. This recipe provided by the U.S. Dept. of Agriculture. For additional healthy recipes and cooking tips visit: choosemyplate.gov